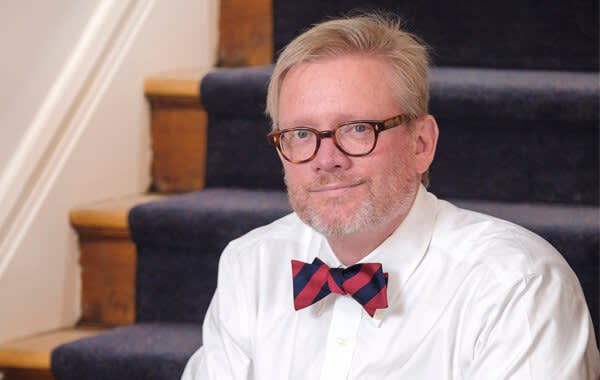 A Local Family Law Attorney Who Cares About His Community
Gordon Peters was born and raised in Lynchburg, Virginia. Growing up with an attorney father and seeing the impact that his legal services were able to have on their community was always inspiring, but Gordon initially took a different professional route— pursuing degrees in English Literature and spending his first working years as a teacher. Despite a budding teaching career, Gordon still felt a calling to do more.
Education & Experience
Gordon decided to follow in his father's footsteps by serving his community as a lawyer and enrolled at The University of Richmond School of Law. Upon graduating with his law degree in 1999, he practiced corporate law for a little while in Richmond, before his dad persuaded him to come back to Lynchburg and join his family law firm.
Since 1982, E. Gordon Peters, Sr. had been giving back to their community by offering attentive, thorough, and knowledgeable legal guidance to those who needed it. Working alongside his father, the family business continued to thrive and make a positive impact on their community.
Gordon's background as a teacher, lead him to the area of family law where he has had the ability to help families with children get through difficult times. After having experienced the legal process of divorce first-hand, it seared the law into his brain in a way he can never forget. He understands the emotional suffering that a separating family goes through and knows how to help you find a way to move forward.
I am here to provide you with the guidance you need to make the right decisions to move forward with your life.
When struggling with a difficult family situation, it's important to remember that you are not alone. All families have their own issues and problems to solve. Whatever you're going through, whether it be a legal separation or divorce, or a conflict over a loved one's estate, there are solutions that will get you through your it, and Gordon can help you discover them.
A Family Law Attorney You Can Trust
When charged with a crime or in the middle of a family law dispute, you need to find an experienced attorney whom you can trust. Regardless of the legal situation you are dealing with, Gordon will help you understand your options, and the impact each can have on your future. You can count on him to tailor solutions dedicated to fighting for your best interests.
You Are Never Alone with Gordon Peters Jr. by Your Side
While being an active member of his community, Gordon offers legal guidance and representation in the following matters:
Child Custody

Criminal Defense

Divorce

Estate & Elder Law

Pre & Post Nuptial Agreements

Traffic Violations
From a speeding ticket to criminal charges, child custody battles to elder law issues, Gordon has seen it all. Let his extensive experience aid you in making sure that you and your loved ones are receiving the guidance that offers the best possible outcome available.
If you or a loved one in Lynchburg or surrounding areas need to help with navigating through your legal concerns, contact attorney Gordon Peters today and begin your journey in good hands.
Bar Admissions
Education
J.D. - The University of Richmond, School of Law, 1999

M.A. English Literature - University Of Richmond, 1990

B.A. English Literature - Randolph-Macon College, 1987
Professional Associations & Memberships
Virginia State Bar, Member

Virginia Bar Association

VACDL the Virginia Association of Criminal Defense Lawyers

Virginia Trial Lawyers Association

VAELA the Virginia Associaton of Elder Law Attorneys

Lynchburg Bar Association, Member, 2002-Present - Board Member, 2013 - 2016

Indigent Defense Commission

Police Benevolence Association, Member

E.C. Glass Lacrosse Booster, 2013 - 2017

Boy Scout Troop 29 (Eagle Scout) Alumni Head Peakland Methodist Church

Interfaith Outreach Agency, Board Member, 2010 - 2012

St. Paul's Episcopal Church, Member

Boonsboro Country Club, House Committee Member, 2016 - Present